My old aging Nokia 6600 cell finally passed away on Monday, leaving me franticly searching for a new one. After some deliberation and after seeing a myriad of cell models, I finally settled for the Nokia 6300. To tell that truth it's a little on the steeper side for me. I rarely use any fancy features on a phone except for the FM radio, which by the way is a must for me. Hopefully the MP3 player that this phone carries will also be another feature I will use. I rarely talk long hours with anyone except with a few close friends, and that is often not that long either. Talking on a phone too much is a waste of time ;). That is exactly why I hate spending on something like a phone.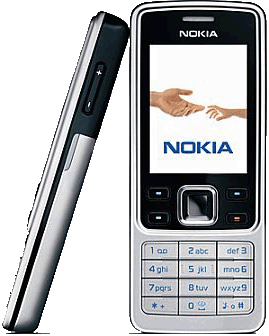 The phone is pretty sleek and slim and looks pretty stylish. Yeah, got suckered in by the looks, couldn't help it. Call me daft, but that was the major reason I pick this beauty up. OK to be honest, I did do a spec scan but the phone has just too many features that I know I will just never use.
The phone dimensions are 106.4 x 43.6 x 11.7 mm, about the correct size to fit into your hand. The body is metallic gray, you can see it in the pic, but leaves a lot of finger prints marks because of the metallic finish. The screen is top notch. 16 million colors give an amazing display quality. The phone features a 2 mega-pixel camera but, unfortunately, the picture quality is pretty ordinary. I think the camera needs a firmware update because the pictures appear distinctly dithered when light intensity goes down. Under normal lighting conditions the camera is kinda OK, not the best I have seen.
The best feature of the phone is probably the music player. It can play all your songs when loaded in a custom converted format. Nokia music manager does this very nicely and neatly for you. The sound quality is pretty good. This I think is one feature that I am going to thoroughly use and maybe overuse. The FM tuner of the phone is pretty ordinary. My 6600 had a better tuner. It's not the music quality that is bad but the tuner. Since music files play just fine, I can only conclude it's not the preamp but the tuner which is at fault. It is clearly not up to the mark. I am disappointed with the FM tuner. I had expected Nokia to give better quality for the FM radio.
The phone has an impressive OS. No issues like slow navigation or faulty menus. I had initially feared that the OS would be poor since earlier phones with Symbian OSes were known to be particularly weak in these areas. Nothing of that sort. The phone is built for connectivity. It has a "push-to-talk" (PTT) feature that allows you to use your phone as a walki-talki radio, haven't used it though. It has a mini USB connector and is just way too easy to connect to your PC. There is also a bluetooth connectivity option that I haven't tested.
The phone has a lot of applications that come preloaded. Browsing the internet is just a charm with the the pre-loaded Opera browser. There are a few games, (and you thought I wouldn't….;)) ), but they are pathetic. However in my opinion, playing any game on this phone will be a nightmare. The controls and keys are tightly packed and pretty flat, not suitable for gaming. The (large) screen to (small) keypad ratio makes playing anything awkward. The phone comes with a 128 MB micro SD card that is like way too less if you are a big music fan like I am. You will have to go for another 2 or 4 GB card to have your entire collection on the phone.
Lastly the battery. The phone is power hungry and the battery discharges pretty quickly. That is too be expected from such a power guzzling display. The battery life is about 2 days with moderate usage. That is pretty low, but since I use the phone pretty sparingly, this is OK for me.
In conclusion, not too much. I am still pretty new with the phone, but I am quite happy with it. There is a lot of functionality that I haven't tested, so there may be parts missing in this short review. The phone is "good value for money " and if you get a good bargain, well worth it. If you are a heavy camera user or plan to run a lot of multimedia applications, maybe not the ideal choice. If you are looking for a decent good looking phone which can double up as a music player and a small PIM, this could be one for you.